Ladybird Baby Unisex Pack Of Three Sleepsuit, Hat And Bib Gift Set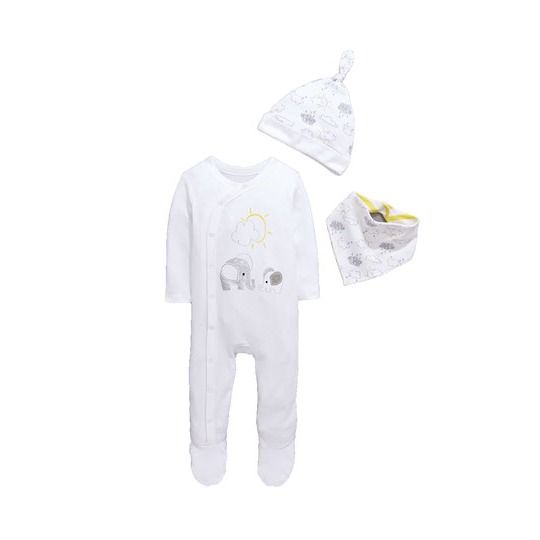 Ladybird Baby Unisex Pack Of Three Sleepsuit, Hat And Bib Gift Set
Colour: White SKU: C14016F9
Select Size Size Guide

Girls (5 to 16)

| Age (years) | 5 | 5 | 7 | 8 | 9 | 10 | 11 | 12 | 13 | 14 | 15 | 16 |
| --- | --- | --- | --- | --- | --- | --- | --- | --- | --- | --- | --- | --- |
| Height | | | | | | | | | | | | |
| Chest | | | | | | | | | | | | |
| Waist | | | | | | | | | | | | |
| Inside Leg | | | | | | | | | | | | |

Girls Generous Fitting (3 - 16)

| Age (years) | 3-4 | 5 | 6 | 7 | 8 | 9 | 10 | 11 | 12 | 13 | 14 | 15 | 16 |
| --- | --- | --- | --- | --- | --- | --- | --- | --- | --- | --- | --- | --- | --- |
| Height | | | | | | | | | | | | | |
| Chest | | | | | | | | | | | | | |
| Waist | | | | | | | | | | | | | |
| Hip | | | | | | | | | | | | | |
| Inside Leg | | | | | | | | | | | | | |
Delivery & Returns
Delivery in 3-5 working days - £3.95
Shop with confidence - Return this item for £1.99
Returns accepted within 28 days of delivery
A great gift idea for expectant parents who don't know if they're having a pink or blue just yet, this adorable baby unisex outfit by Ladybird includes all the basics they'll need to get started
Made from cotton that's kind against young skin, the set comprises a white all-in-one sleepsuit with cute elephant embroidery
Fitted with built-in booties to keep toes nice and toasty, poppers down the front allow for quick and fuss-free dressing
* Price comparisons are against products sold by Shop Direct Group's Littlewoods brand in the last 12 months.
We know that occasionally you may want to return an item so below are instructions on how to do so.
Home Approval Period - unused, unwanted purchases may be returned within 28 days of receipt.
Simply complete the returns form that came with your goods including the reasons why you are returning the product(s) to us. Please put all items for return into the same parcel and ensure that you include the returns form then post the parcel to us within 28 days.
If you would like an exchange for your product or a different size please put these details into the notes section on the returns form. If we do have stock, we will send this by return. If no stock is available, we will refund you returned items to your original method of payment.
Refunds will be credited within 30 days of us receiving your returned goods.
Girls (5 to 16)

| Age (years) | 5 | 5 | 7 | 8 | 9 | 10 | 11 | 12 | 13 | 14 | 15 | 16 |
| --- | --- | --- | --- | --- | --- | --- | --- | --- | --- | --- | --- | --- |
| Height | | | | | | | | | | | | |
| Chest | | | | | | | | | | | | |
| Waist | | | | | | | | | | | | |
| Inside Leg | | | | | | | | | | | | |
Girls Generous Fitting (3 - 16)

| Age (years) | 3-4 | 5 | 6 | 7 | 8 | 9 | 10 | 11 | 12 | 13 | 14 | 15 | 16 |
| --- | --- | --- | --- | --- | --- | --- | --- | --- | --- | --- | --- | --- | --- |
| Height | | | | | | | | | | | | | |
| Chest | | | | | | | | | | | | | |
| Waist | | | | | | | | | | | | | |
| Hip | | | | | | | | | | | | | |
| Inside Leg | | | | | | | | | | | | | |