Elizabeth Arden Prevage Intensive Daily Serum Set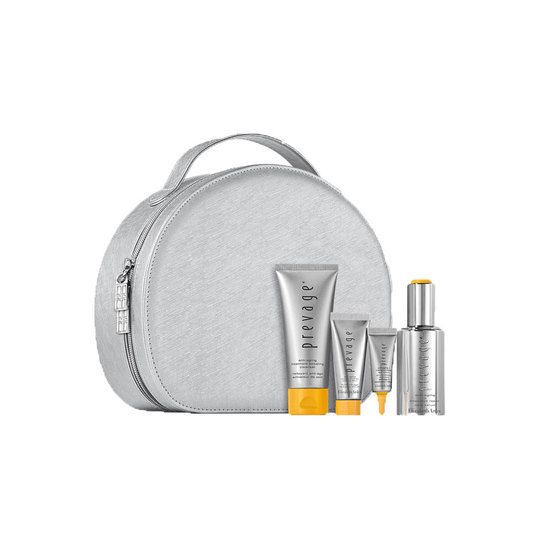 Elizabeth Arden Prevage Intensive Daily Serum Set
Sorry, this item is no longer available.
Delivery & Returns
Delivery in 3-5 working days - £3.95
Shop with confidence - Return this item for £1.99
Returns accepted within 28 days of delivery
This breakthrough Elizabeth Arden Prevage Intensive Daily Serum Set helps to reduce the appearance of fine lines and wrinkles
Included in this set are 4 miracle products designed to fight the tell-tale signs of aging, to leave you with a youthful, glowing complexion
It contains the Anti-aging and Intensive Repair Daily Serum and Eye Serum, which both work to smooth out fine lines and lift your skin's natural appearance
Also included is the Anti-aging Moisture Lotion Broad Spectrum Sunscreen (SPF30), which protects your delicate skin from the sun while helping to even out your skin tone
Finally, the Anti-aging Overnight Cream is also included It provides intensive repair and hydration as you sleep to minimise the look of wrinkles and sun damage, leaving you with radiant skin
Includes:
Prevage Anti-aging and Intensive Repair Daily Serum (30ml)
Prevage Anti-aging and Intensive Repair Eye Serum (5ml)
Prevage Anti-aging Moisture Broad Spectrum Sunscreen SPF30 (15ml)
Prevage Anti-aging Overnight Cream (15ml)
Presented in a stylish, reusable toiletry bag
* Price comparisons are against products sold by Shop Direct Group's Littlewoods brand in the last 12 months.
We know that occasionally you may want to return an item so below are instructions on how to do so.
Home Approval Period - unused, unwanted purchases may be returned within 28 days of receipt.
Simply complete the returns form that came with your goods including the reasons why you are returning the product(s) to us. Please put all items for return into the same parcel and ensure that you include the returns form then post the parcel to us within 28 days.
If you would like an exchange for your product or a different size please put these details into the notes section on the returns form. If we do have stock, we will send this by return. If no stock is available, we will refund you returned items to your original method of payment.
Refunds will be credited within 30 days of us receiving your returned goods.